The Shoemate Clan of Bledsoe County, Tennessee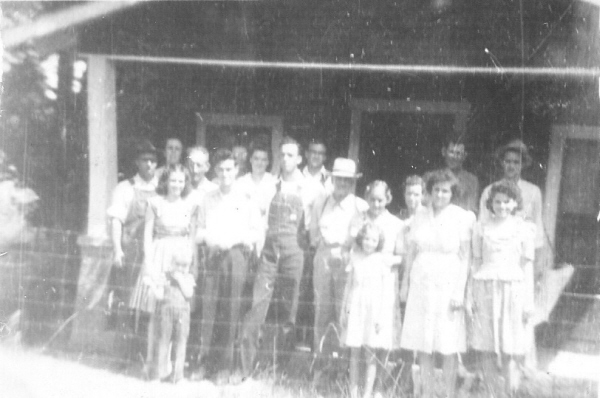 front row:(Left to Right) Dorothy Shoemate Sullivan and in front of her is son, James Sullivan. next to Dorothy is Jack Summers, son of Clata Shoemate Summers. next is Henry Shoemate (in overalls), James Blaine (Papa Shoemate, in white hat). next to Papa is Marie, youngest of eleven siblings. Next is Bess Shoemate, I believe her husband was Jesse Shoemate, and their daughter, Patsy.

Back row (things may get a little muddled here)
Left to Right

George Shoemate (in overalls and dark hat), Clata Shoemate Summers Holt. Clata's first husband, Marshall Summers, died and Clata later married Elbert Holt. I cannot identify the next man in the photo, but on the back of the original photo is the name, Jess, who I do not remember. However, this is the only person I am to too sure about. Next to Clata, in front of window is Mama Shoemate's brother, George Bradford. He is hard to pick out in front of that window. Next is Versa Bunch Shoemate, wife of J. B. Shoemate who is next to her.
The last two men in photo are Elbert Holt and on end of back row is Connard Sullivan.